Deelow's G37 Sedan Build Thread
03-02-2014, 12:46 PM
Originally Posted by
blnewt
IMO these are a good look, and price & quality are good
Amazon.com: Gorilla Automotive 21123BC Small Diameter Acorn Black 5 Lug Kit (12mm x 1.25 Thread Size) - Pack of 20: Automotive
No, not on those OEM rims. He needs a washer/shank style lug nut. But Deelow already knows that.
Plus, that little button-top... Meh.
03-02-2014, 01:21 PM
Thanks for the head-knock, right you are sir (I guess it's rare that I deal w/ OEM wheel stuff so I forget about the rather important lug nut difference).
03-02-2014, 01:32 PM
03-02-2014, 09:54 PM
03-02-2014, 10:34 PM
Originally Posted by
Deelow
Very nice. The ends look exactly like the McGards I just bought. Clean, polished and with better style than those button tops (I think I'm making up that word. Honestly, IDK what you call that design.)
Other than size, 12x1.25, I think the key terminology you're looking for is "flat top short shank". Thing is, I'm not finding anything in black... Only long shank in black for the mag seat nuts. You might have to go for chrome, because of those OEM rims. That really limits your options.
---
Last edited by Rochester; 03-02-2014 at

10:40 PM

.
03-03-2014, 06:42 PM
Registered User

Join Date: May 2013
Location: Central NJ
Posts: 1,893
I'm with you on that one ! Therefore that being said I can NOT wait till the day I finally get my coupe wheels and get them powdercoated gunmetal and slap them on my Graphite shadow Ssss-Sedan

03-03-2014, 10:17 PM
03-04-2014, 08:19 AM
No, "spline drive" is the design of how the socket fits over the the lug nut, intersecting with groves along the side, rather than the typical hex-nut socket. I was referring to how the end-cap of the lug nut has a little dome on it, instead of a flat top. Like I said, I think I'm making up words.
Here's a standard, washer-style (two-piece), mag-type, short-shank, hex-wrench lug nut with a flat top: (so many labels, LOL)
Here's a one-piece, six-sided spline-drive, conical seat lug nut with a domed top: (cheap, dime-a-dozen)
And here's a two-piece, eight-sided spline-drive, conical seat, composite lug nut with a flat top: (McGard)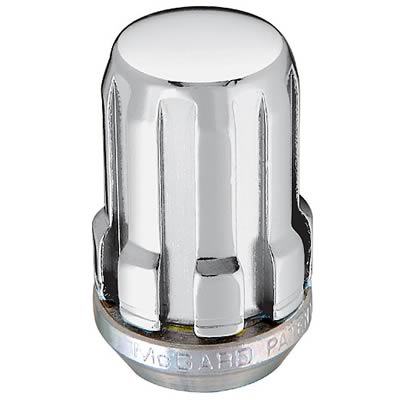 ---
Last edited by Rochester; 03-04-2014 at

09:28 AM

.
03-04-2014, 09:57 AM
LOL I'll let you continue to make up names - you seem to have fun with it.

I have never seen the washer-style spline lug, so I thought i was being smart for once, haha.

Thanks for the recommendation on the OE style Gorilla lugs. I'll need to get a set for my coupe wheels, as well.
03-05-2014, 05:54 PM
Originally Posted by
Deelow
News I've been holding back........ Akebono brakes incoming within a month. A guy I know who runs a shop changed out a guys G37 Akebono fronts and next week backs for a 6 pot kit. Gave him the fronts which I got dirt cheap. Now time to start saving for brake lines, rotors and pads! Glad I got wheels that clear them now lol!
Oh, nice. Custom powdercoated sport coupe rims and an Akebono BBK... you're going to be loving that look.
Color on the calipers, or OEM silver gloss metalic?