Changing the Parking Lights to White LEDs (Coupe)
08-10-2015, 01:44 AM
Changing the Parking Lights to White LEDs (Coupe)
---
So after I changed my fog lights to LEDs (
https://www.myg37.com/forums/body-in...n-a-coupe.html
) to match the headlights, I noticed something else that didn't match. The parking lights! Some call them city lights. The 2013 manual calls them parking lights so I'm just going to go with that. I don't even know what they have to do with parking. Are we supposed to turn them on while parking? What if my lights are already on? Do I turn off my headlights and just use the parking lights?
Anyways, I didn't even know we had them until I took pictures of my newly installed fog lights.
I was like, what is that dim yellow light coming out next to the headlights? At first, I thought it was just a reflection of the HIDs or the environment. Turns out, there's a weak little 5 watt bulb in there. What's the point of having that? Time to go LED! Luckily, I had a couple leftover bulbs from a set I bought off Amazon.

Amazon.com: JDM ASTAR 4pcs Super Bright 5630 SMD 194 168 2825 W5W T10 LED Bulbs,Xenon White(Best Value in the market): Automotive
Now if you have a coupe, the 2013 manual says the bulb is W5W, which is the same fit as a 168 and 194 bulb, so these bulbs from Amazon are just fine. Sorry sponsors, I'm cheap.
If you have a sedan, the manual says its a 7444NA bulb, which is an amber colored bulb. Now, I haven't seen one in person, but from pictures, it looks just like a 168/194/W5W bulb, except the glass is amber. So I'm gonna guess and say these bulbs from Amazon should work. But I really don't know! And why are they amber? Are they on all the time or just when signaling? Well, if you have a sedan, you might want to check into "switchback" LED lights. They're the ones that are white when on "parking" mode but blink amber when signaling.
My point is, I don't really know what's going on with the sedans. I'll just stick to writing about my coupe.
So I thought I'd have to go through the fender liner again to get to those parking light bulbs. However, the coupes have a window washer fluid tank on the passenger side that is blocking access to the bulbs when trying to go through the fender liner. The better way is to go from the top and remove the air filter boxes.
These are instructions on how to remove them from infinitig37.com in reference to installing an intake
Infiniti G37 R2C installation instruction how to.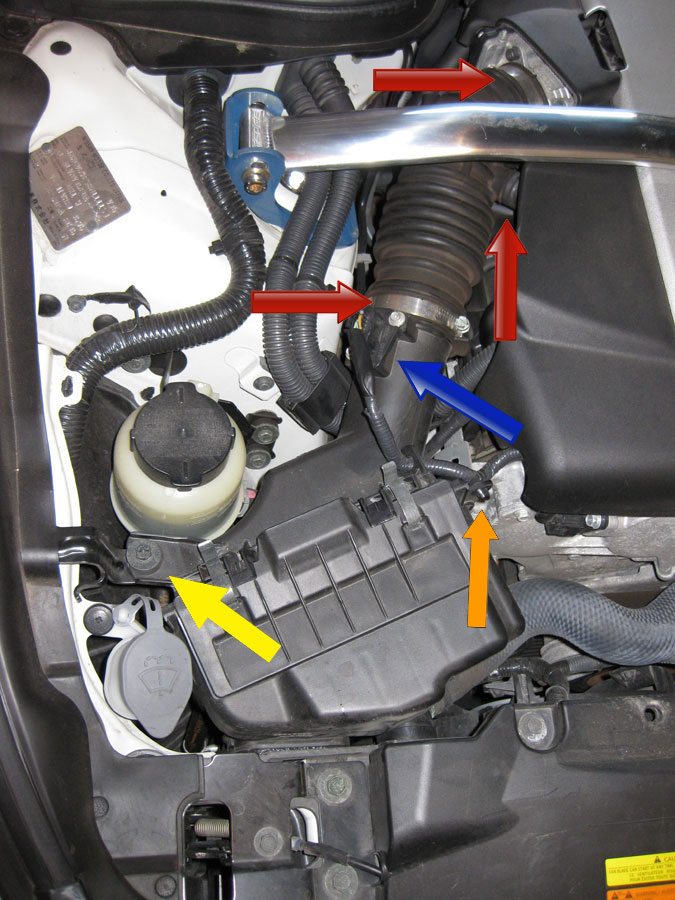 Step 1: Factory Intake The left image depicts the factory intake (in this case the passenger side) system. Removal of the factory intake system is as follows:
Red Arrows: Remove two screw-style clamps (Throttle Body and Air Box) and one compression-style clamp (Crankcase Vent Tube)
Blue Arrow: Disconnect Mass Airflow Sensor (MAF) connection
Yellow Arrow: Remove 10mm bolt that holds down air box
Orange Arrow: Squeeze wire clip to remove
NOTE: You don't have to remove the clamps holding the tube to the engine (the top red arrow) nor the crankcase vent tube (right red arrow). Just loosen that band clamp closest to the air box. Once it's loose enough, wiggle the hose and push it back (towards the rear of the car). Once it's off, push it down and out of the way.
If everything else is disconnected, wiggle and pull the air box straight up with lots of force. It's held in by two thick plastic pegs that you can't see.
Once the box is out, look outside where your parking light is and eyeball it back to where the bulb should be inside the car. You should see a couple wires coming out from where the back of the bulb is. They are coming out the middle of a round cap. Make sure you find the right one or you'll end up disconnecting the wrong thing. Remember, it's a couple wires coming out from the center of a round cap. Here is what you should look/feel for: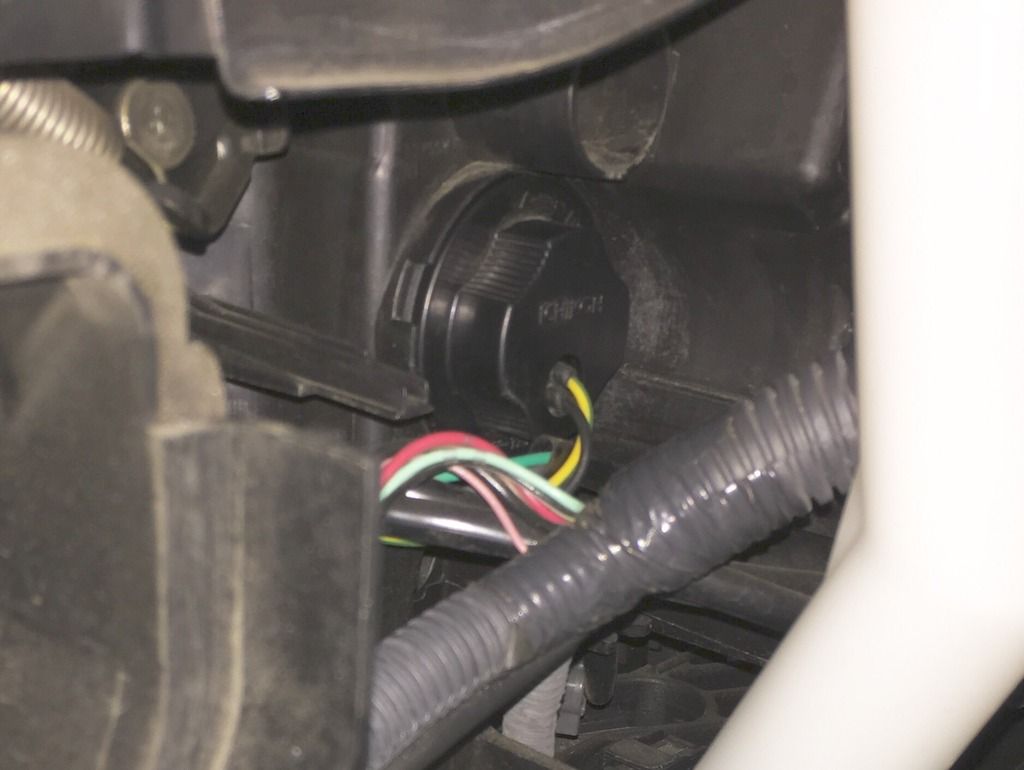 If you're on the passenger side (remember, I'm talking coupe here) there will be a plastic harness that's clipped in and in the way. Unclip it to give your hand more room.
Now turn that cap and pull it out and let it hang there. You can't take it out of the car. Use your fingers to follow the wires in and you'll reach the end where you pull the bulb straight out. Take the bulb off the connector and replace it with your new bulb.
Reinstall everything and then you get:
Aha! All matching lights (although they look more blue here)! Compare it to the first photo. All that work and no one will care or notice except for you! Your wife will even roll her eyes at you and not be impressed! Ah... a job well done.
Update (10/31/15): I thought all was good until I caught my reflection on the back of another car's bumper. It turns out that the fogs and city lights match, but they're a little whiter than the OEM HIDs. It's the little things that bug, right? I took the pics with my iPhone and it must do some color correction or something. Or maybe it's just more apparent at night. The more I stare at them with my own eyes, the more the difference is noticeable. I'll probably look for some city lights with a lower temperature. Good thing those LEDs are cheap! Or I guess I could get whiter HIDs.
Here's a picture in the dark at an angle. As you can see, the HIDs are actually a little warmer than the fogs and city/parking lights.
My theory is the bulbs start off white when you first turn them on. Then they settle into a yellower color as they warm up. That would explain why they looked like they matched in my earlier photos.
Update (11/4/15): I've chosen to get whiter HIDs in 6000K. They are sitting in a box on my table right now. I will install them in a couple days. Update coming soon!
Update (11/12/15): Got my HIDs installed!
https://www.myg37.com/forums/body-in...ml#post3966607
---
Last edited by superjoey; 11-14-2015 at

06:22 PM

.
The Following 6 Users Say Thank You to superjoey For This Useful Post:
10-28-2015, 11:59 PM
Pawn in Game of Life
10-30-2015, 06:42 PM
Pawn in Game of Life
Need some help...
---
So I got an early start on the weekend and put them in when I got home from work. Typical clusterfark when you are doing things for the first time, including dropping one of the little MAF housing bolts down into the abyss when taking it off.
It's nowhere to be seen or felt from above, not on the floor and not rattling around in the housings. I guess I get to find a replacement but that's a separate issue.
After that little mess I got both LEDs installed, made sure both worked, buttoned everything back up and fired up the ignition. While standing back admiring my handiwork, I noticed the now drivers side city light is blinking.
WTF? I guess I picked the wrong week to quit sniffing glue...

I did some digging online and see lot's of references to hyper blinking with turn signal LEDs. Sounds like installing a resistor is the fix for that problem. I'm thinking this may be the same type of voltage/ohm issue, but would appreciate any feedback from you electrical DIY gurus.
10-31-2015, 04:26 AM
You know, I had that issue when I installed my fogs. Installed both and then noticed that one of them turned off, then turned on again, then turned off. I too was like WTF! But then after just turning the lights on and off, turning the car off and on again, the problem went away. Now they stay on. It was almost like the car was learning how to use the new lights. I know that sounds stupid.

I believe the hyper blinking issue only happens when the LEDs are used as turn signals. You know how the LEDs I posted come in 4? Well, the other two are used in my '99 Integra as turn signals and I get the hyper blinking. I kinda like it. It tells people, "Look at me! I'm turning!" The wife says the fast ticking gives her anxiety.
10-31-2015, 09:25 AM
Pawn in Game of Life
So I unbuttoned everything last night and moved the driver side bulb over to the passenger side and passenger side bulb over to the drivers side. Now the passenger side bulb turns off and on. While still pissed, at least I guess I can assume it's the bulb

11-01-2015, 01:05 AM
Registered User
Join Date: May 2015
Location: Alberta
Posts: 1,366
11-01-2015, 10:32 AM
i kinda wish i would have used these "city lights" or whatever they are being called, for DRL's.
i had a lot going on at the time i bought my G and didn't get to read the manual like i usually do when i buy a new car. I just assumed they were the high beams.
11-01-2015, 02:42 PM
Man, that sucks. I hope you had more of those little bulbs lying around. All this talk about bulbs got me to ordering a set of HIDs in 6000K. Let's see how it goes...
11-04-2015, 09:48 PM
Registered User
Join Date: Aug 2014
Posts: 239
superjoey, are your headlights the oem HID (4300k) ? I will be doing this to mine and was wondering if a 6k cool white would all match
11-05-2015, 02:57 AM
Yes, they are currently the OEM HIDs (4300K). After I installed the LED fogs and LED parking lights, i thought they all matched. The first photos I took all looked like they matched up. It wasn't until I caught my reflection off another car's bumper did I notice that the LEDs were whiter that the OEM HIDs. My theory is the HIDs start off white, but after they warm up, they turn a little yellower. I actually will be installing 6000K bulbs in a couple days. They're sitting in a box right now. I'll update once they're in.
11-06-2015, 01:16 AM
Registered User
Join Date: Oct 2015
Posts: 12
Thanked 0 Times in 0 Posts
Replaced bulb replaced (question)
---
I just replaced the (city lights) which is the bulb that is stocked yellow. I loved how it is not yellow anymore thank god. Is the city light apost to be on all the time? After I replaced them they only turn on when I turn on the night ime settings/ AUTO. Might be a stupid question, but I just want to double check just in case. I followed the guide which is very good btw. Just worried if the city lights are always apost to be then was an issue from me installing it. Thanks
11-07-2015, 02:03 AM
Pawn in Game of Life
So I ordered a new set of city lights from DD along with tail as turn modules and the new bulbs did the trick

Turns out they were less expensive than the JSTARS with the added bonus of actually working, which is nice...
I took a cue from you SJ and got a set of 6000K's coming too. I noticed the same color difference once you mentioned it. Thanks for helping to fuel my addiction.
11-18-2015, 05:29 PM
Registered User
Join Date: Oct 2015
Location: Westchester
Posts: 927
The city/parking lights kind of annoy me. They look like headlights but aren't. They could be nice DTRLs but aren't.


There are already yellow parking style lights/reflectors on the outside.
Seems like a wasted opportunity.


I think I'll try your mod too!
11-29-2015, 05:48 AM
Registered User
Join Date: Aug 2015
Posts: 5
Thanks: 0
Just lurking in the shadows here as I'm about to LED the lights in my coupe. You guys are killing me with the the comments above, from the wife comments to the car learning to the addiction comment. Really made me laugh. Thanks for all the good pointers!