Black Pearl Worklog
10-18-2011, 08:34 PM
'Cuz Racemod-erator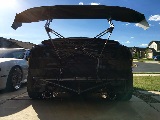 Black Pearl Worklog
---
***UPDATED***
Here's the TLDR List:
ENGINE
Garrett GTX 2871R Supercore Turbos
GTM Thermal Coated Intercooler 3.5x13x24 Bar,1000HP rated
Carillo Pro-H Beams Connecting Rods
Arias Custom Pistons 10:1
OEM Main Bearings
OEM Connecting Rod Bearings
ACL Thrust Bearings
ARP 8740 Main Studs
ARP L19 Head Studs
Viton Valve Stem Seals
HKS Head Gasket
ATI Damper
Nismo Oil Pump
CSF Racing Radiator
Samco Hoses
Setrab 34 Row Oil Cooler
Setrab 34 Row Transmission Cooler
Fast Intentions 2.5" Catback Exhaust w/3" Downpipe
Turbosmart 50mm Raceport Blow Off Valve
Turbosmart 38mm Ultragate Wastegate
Carbon Fiber Engine Bay
Nismo Oil Cap
HKS Radiator Cap
Mobil 15W50
FUEL SYSTEM
Fuel Return w/Aeromotive Regulator
Injector Dynamics 1300cc Injectors
CJM Fuel Rails w/Custom Crossover
CJM Custom Twin Pump (255/450) w/Wiring Upgrade
Aeromotive Inline Fuel Filter
Nismo Racing (NGK) Spark Plugs
DRIVETRAIN/SUSPENSION
Level 10 Bulletproof Transmission (Internals, VB,TC)
Nismo Finned Differential
Quaife LSD
Eibach Sport Springs (Soon to be FEAL 442 Dual Adjustable True Coilovers)
SPL Camber Kit
Hotchiki Sway Bars
Soul Function Rear Lower Tie Brace
Soul Function 6 Point Subframe Brace
Driveshaft Shop 1200hp Rated Axles
BRAKES
Akebono BBK
Motul RBF 600
Z1 Sprinkle Slotted 2-Piece Rotors
Carbotech XP10/XP8 Brake Pads
Z1 Master Brake Cylinder Brace
ELECTRONICS
UpRev MAF GT Sensors
Traction Control Defeat/AWD to RWD Switch/Brake Boost
Greddy Profec Boost Controller
Innovative Wideband Gauge
AAM 4 BAR MAP Sensor
EcuTek Tune w/ECU Connect
INTERIOR
Harness Bar/
Status 5 Point Harness
Status SPA & ICON Seats (Wedge Brackets)
IPL Door Panels
Hydrodipped Pieces
Personal Steering Wheels (Pole Position,Neo Grinta)
Works Bell Quick Release/Short Hub
Paddle Shift
Sport Pedals
GTR Push Start
Rear Seat Delete
EXTERIOR
Zele Front Bumper
IPL Side Sills
IPL Rear Bumper
OnEighty Customs Headlight/Tailight
Decklid OEM Spoiler
Street Faction Chassis Mount Wing
VIS Carbon Fiber Vented Hood (Aerocatch Locks)
Midnight Grill OEM
Custom Front Splitter
WHEELS/TIRES
Forgestar F14 18x9.5 +30
Michelin Pilot Super Sports 265/40/18
Volk TE37SL 18x9.5 +35
Nitto NT-01 275/40/18
Maintaining this build thread to try to help others with their G37x's. Been through a lot of set-ups and issues to get where I am at now. Thanks for looking and hope it helps.
Here's a couple shots fresh stock, no mods.
Could not modify the G too much in the beginning due to living in North Dakota and the weather being less than car friendly during winter. I decided to lower it and get some Fast Intentions Resonated Test Pipes to begin with (as well as some tint)
After that I was able to get a hold of the OEM Midnight Grille, some R2C Intakes, and a BB Grounding Kit
I thought I may be done after that, but I was addicted!
BTW - Feel free to give recommendations (it's always a work in progress)
---
Last edited by Lt8Che; 07-06-2017 at

09:22 AM

. Reason: Updates
10-18-2011, 09:06 PM
Registered User
Join Date: Mar 2008
Location: MN
Posts: 8,127
Nice list you got going there. Definitely on the right path!
10-18-2011, 09:13 PM
'Cuz Racemod-erator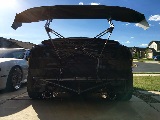 Thanks everyone, I'm excited to drop more into it.

ShyAznB8oi, it's dropped on Eibach PK right now, but I may rock coilovers sometime soon.
10-19-2011, 05:13 AM
Administrator
Join Date: Aug 2008
Location: Doha, Qatar
Posts: 12,189
Subscribing to see where this is headed! Like what you have planned for her

I'd save the hood for last though if I were you
10-19-2011, 02:08 PM
'Cuz Racemod-erator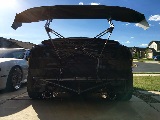 Thanks Sam, and Thanks Bref for being adopted to team useless, haha. The bonus is going to get good use.
10-28-2011, 09:57 AM
"GoTo"for FAST INTENTIONS
Join Date: Oct 2009
Location: Twin Cities, MN
Posts: 8,583
you're DEF in the right direction w/ the Fast Intention products!!!
10-28-2011, 11:24 AM
Registered User
Join Date: Dec 2009
Location: Framingham Ma,
Posts: 6,076
Nice man good choices so far.. You going TP's on the stock exhaust?? Rasp?? An GL with the tranny+ the TP's, I had issues with mine, and HFC's had to take them off
...