Carsmo alternative
05-21-2018, 10:48 PM
Registered User
Carsmo alternative
---
After seeing a number of pictures and a few comments on pictures I posted I decided maybe I'd try to get a set of the carsmo *****. Turns out they're discontinued, unfortunately. I emailed them and they replied that they didn't have any intentions of making them again.
On to plan B. I tried to buy a set from a guy parting out a car a few weeks ago in the classifieds. He hadn't advertised them but I noticed them in one of the pictures he posted and sent him a message. I offered to PayPal him some cash and send my stock ones to put on to sell with his car. He agreed and I sent them and the funds off. My set was delivered to him on 4/26 according to USPS and I haven't heard a peep since.... I've sent a couple messages but no response.
Long story (not very) short I've resigned myself to the fact that I may have gotten hosed and I'm tired of driving the car with little brass posts to adjust the radio and climate controls. I did a little searching and found a guy selling aluminum ones on eBay and ordered a set. They were $30 shipped and I figured at least I'll have some buyer protection this time through eBay/PayPal and there is no way they'll be worse than the nothing I have now. In the pictures they look a lot like the carsmo version and all of the reviews looked positive. Wondered if anyone here has tried them? I'll report back when I get them. One positive note, the seller messaged me immediately after I purchased to let me know he was out of town but would ship them out by Wednesday. At least there's some communication.
Fingers crossed that they'll at least be functional. That would be enough at this point.
05-21-2018, 11:41 PM
Registered User
Join Date: Nov 2015
Location: Maryland
Posts: 1,670
can you link the ones you got?


EDIT: Nevermind, i found the listing. Those are the same ***** that you can buy a pack of 20 for $5 from other sellers. I have them and they are cheap junk. Very plastic and cheap feeling.
05-22-2018, 01:45 AM
Registered User
These are them
https://www.ebay.com/i/253610174898?...f3e1edffe7587d
I sure hope they're not trash. Would figure based on my luck thus far though. Some days you're the bug and all that. The description says they are billet aluminum with a plastic insert. I believe the carsmo had a plastic insert as well didn't it? Are you thinking that these ones are all plastic?
05-22-2018, 02:27 AM
Registered User
Join Date: Nov 2015
Location: Maryland
Posts: 1,670
Im not even sure if they are all aluminum. They don't weigh anything and I can scratch up the finish pretty easily with just a fingernail.


Its possible these are different from the ones I got but i doubt it. They look identical.
05-22-2018, 09:29 AM
Carsmo is done, huh? This seems like the kind of thing another shop should pick up, like Lathewerks.
05-22-2018, 09:48 AM
There are different pics on that ebay link, based on this one this is the same ones I bought a few years ago and they are very cheap and cheap looking, probably can be found still for about $1 a piece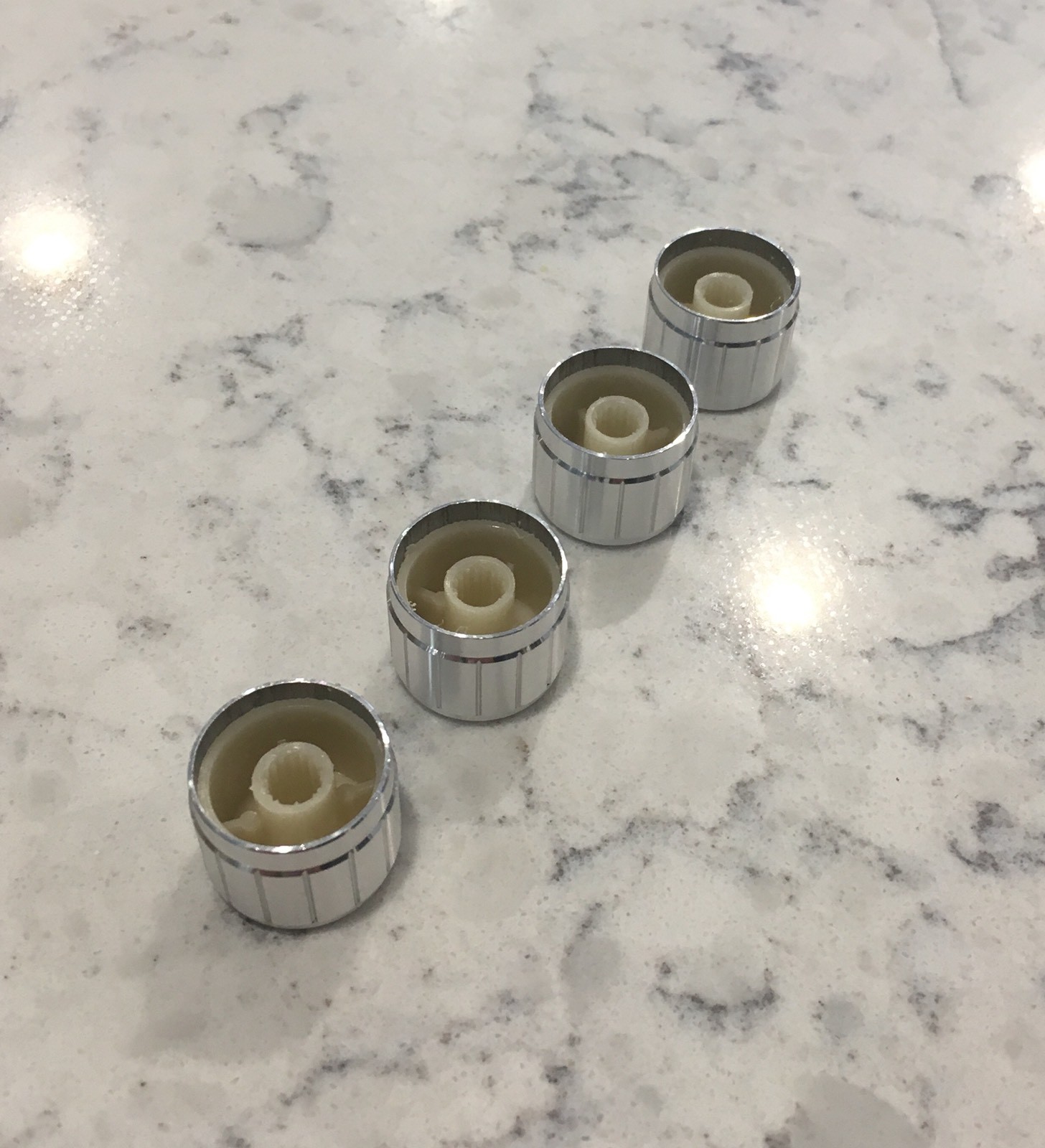 05-22-2018, 11:30 AM
Registered User
Join Date: Nov 2016
Location: Charlotte, NC from OH thru VA
Posts: 730
Those look like the ones I bought off eBay a few months ago. They look cheap in hand and honestly feel cheap, but I think they look good installed and they work well. I'm sure Carsmo has an expensive and quality feel but $7 shipped vs $50 + shipping, I like my choice.
05-22-2018, 11:36 AM
For something you see and touch all the time... pretty sure that saved $43 is a big old bucket of rationalization, r2dmax.
Got in on Carsmo when they came out. It's been almost 5 years now, and I still appreciate having them.
05-22-2018, 12:13 PM
Super Moderator
Join Date: Oct 2014
Location: Houston, Tx
Posts: 4,473
Another Carsmo fan, here. The ***** are the ONLY esthetic mod I've made.
05-27-2018, 01:22 PM
Registered User
First impression: they look pretty cheap. Obscenely light. Very thin aluminum around a plastic core. Wish I would've found the link to buy for $1 each beforehand....
Oh well. Installed they look decent and 100% better than the naked posts I was rocking.
As stated I'm sure everyone's carsmo ***** are great. I'm glad you like them. Unfortunately they are no longer available and my attempt to buy a used set from a member here left a bad taste. For my trouble I lost $40, my stock *****, and the cost to ship them certified to Virginia.
I'll just have to be happy with my aluminum eBay *****. They fit fine and work as they're supposed to.
05-27-2018, 03:23 PM
Registered User

Join Date: Nov 2017
Location: NY, New York
Posts: 182
Thanks: 0
I was lucky enough to get a great used set of Carsmo *****. Iím sorry for the troubles you went through OP. I think those inexpensive ***** you have actually look great for what they are. You can always keep an eye out for someone reputable selling a used set to replace those if you get tired of them.
05-30-2018, 06:44 PM
Build your own bandwagon.
Join Date: Jul 2005
Location: Indiana
Posts: 104
Thanks: 0
I'd just keep your eyes peeled for Carsmo ***** in the Marketplace, they pop up every month or so but they go FAST because nothing else comes close to their quality.
08-01-2018, 10:41 AM
Registered User
Join Date: May 2018
Posts: 75
Thanks: 0
If anyone has a set of Carsmo ***** handy, could you take a set of calipers to them and PM me the measurements? I'm tired of hunting and am going to CNC mill some billet aluminium + 3D print the plastic inserts.
​​​​​​