G37 Coupe Aero/IPL Front Bumpers ON SALE!!
02-28-2012, 08:42 PM
G37 Coupe Aero/IPL Front Bumpers ON SALE!!
---
Update! Nissan/infiniti updated pricing as of 11/10/14 BLOWOUT SALE!!! $1350 Shipped and color matched on SELECT colors. PM me with inquiries lowest pricing you will find anywhere! Packaged deal, add side skirts and rear bumper (without sonar sensor holes for an additional $740 (Already come color matched on select colors)
Arcee and Ray at

OC Infiniti

have been dealing with a whole lot of price request for these Authentic IPL front bumpers for the V36 G37/ Q60 Coupe. Many of them say are prices are still high, so these go out to all you lowballers out there! We are dealing with this hot weather so why not blow out these bumpers for a sizzling hot price! Pre Summer sale for our Facebook Followers and Forum Members!
Just to

break

it

down

for you guys,

OC Infiniti can only get these bumpers in the following colors; (B21) Athens Blue-w/ foglight holes, (K57) Amethyst Graphite- w/ foglight holes, (GAC) Malbec Black- w/ foglight holes, (RAW) Lapis Blue- w/ foglight holes, (K52) Blue Slate- w/ foglight delete, (A54) Vibrant Red- w/ foglight delete, (QAA) Moonlight White- w/ foglight delete, (K23) Liquid Platinum- w/ foglight delete, (KH3) Black Obsidian- w/ foglight delete, and (KAD) Graphite Shadow- w/ foglight delete for this awesome price!

If you need to have the bumper color matched to a different color not listed here, we can do it for $300. You can purchase an additional foglight mounting kit to add foglights to the bumpers with the foglight delete for an additional $100 dollars, and each foglight at $105. If your G37 already came with factory foglights, you don't need to purchase foglights/slimmer reservoir tank. For

$1350.00 shipped,

(Price has changed for shipping as of 11/10/2014, excludes California Residential

-

Taxed at 8%, restricts international shipping, domestic only) $1050.00 plus tax local picked-up and [COLOR="Red"][U][I] We offer Clear Front Bra Bumper Protection for $375.00.

Include an

Outcast Garage Carbon Fiber Splitter

for an aggressive look at an additional

$340.00.

For Slim Windshield Washer Reservoir and Fog Light Assemble please PM, Call, or email us for pricing! Tell us that is not a HOT PRICE DEAL!

Get a better deal with bundle purchases!
Note: All sales are final. All bumpers that are purchased are non-refundable. For customers receiving a shipped bumper, please inspect the bumper prior to the acceptance of the delivery. Any damages or any compromise to the package, please take note and file a claim with the shipper, with this action will better help process your claim faster between you and the shipping company. At the time of acceptance for delivery here at OC Infiniti, take into consideration from the point it leaves our shipping area, it is in the hands of the shipping company to take full responsibility and care of the package to the recipient.
An example with the foglight delete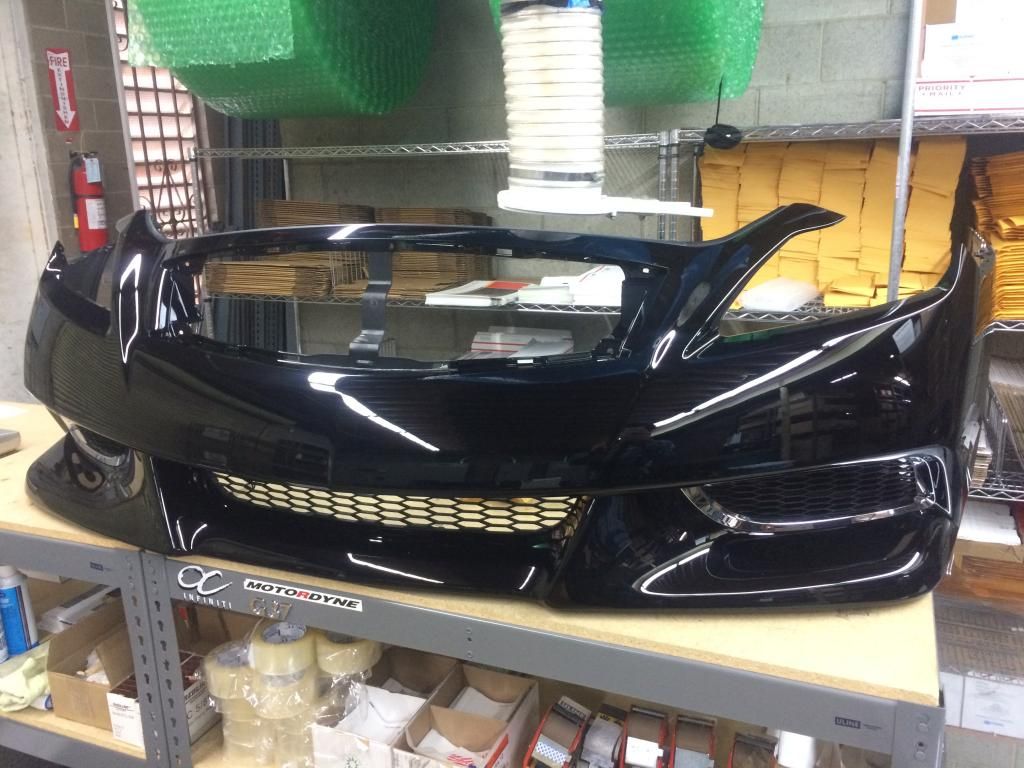 So how you like these deals?!


Here at OC Infiniti we strive for the best quality work we can give to our customer. Every bumper goes through a rigorous dis-assembly. All rivets holding the inserts are removed and clips that hold the bumper under covers. Once the bumper has gone through the process in paint, the rivets that hold the inserts are replaced as well as the clips that hold the bumper under cover. There are no masking done here which other body shops will do, we perform quality work and we give our customers the piece of mind that they will receive a part that will not disappoint them. All of our bumpers that we receive from our body shop will go through a full on inspection before we send them out. We take the extra care for the newly painted bumper and make sure we wrap the bumpers and package them correctly for a safe ride to our customer's door.


You can email Sergio at [email protected] or call him at

(714)650-8585 x191
You can email Arcee at
[email protected]
or call him at
(714)650-8585 x139
You can email Ray at
[email protected]
or call him at
(714)650- 8585 x140
03-01-2012, 02:38 PM
03-01-2012, 03:09 PM
Registered User
Join Date: Apr 2011
Location: New York
Posts: 46
Likes: 0
Received 0 Likes on 0 Posts
K23 liquid platinum shipped to 10915.
Thanks
03-01-2012, 03:50 PM
Seen this bumper in person... It's SICK.

Screw the aftermarket POS fiberglass bumper that don't fit, with this, you'll save money since it's painted already AND fit 100%.
03-01-2012, 09:32 PM
Registered User

03-02-2012, 05:13 PM
Registered User
Join Date: Dec 2009
Location: Framingham Ma,
Posts: 6,076
Will be ordering mine next week, Price is crazy ,, not to get this and know it fits 100% is a must.
03-03-2012, 11:01 AM
"GoTo"for FAST INTENTIONS
Join Date: Oct 2009
Location: Twin Cities, MN
Posts: 8,583
How much for a rear in OB shipped to 55119? Pm me, thanks!
03-03-2012, 05:24 PM
Registered User
Originally Posted by
[email protected]
Thank YOU, Denny! Don't forget to post pics when you install everything. Black Obsidian is the most requested finish so it will give everyone an idea of what it will look like installed

Here's my OB Aero: With OB fog trim:
IMG_0159.jpg?t=1330813085
03-03-2012, 05:31 PM
Registered User
Join Date: Feb 2012
Location: SaN DiEgO
Posts: 124
Likes: 0
Received 0 Likes on 0 Posts
How much shipped to 92056? Black obsidian!