ttv36 - 700+ rwhp Sedan Build Thread
11-27-2018, 03:45 PM
Race, repair, repeat.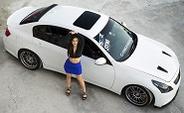 04-16-2019, 11:38 AM
Race, repair, repeat.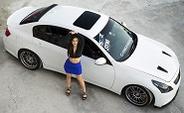 I can't believe this thread is over 5 years old now! My where has the time gone..
The build that keeps on going is still not done, but we inch towards completion every other month or so.

Well let's sum up what's happened in the past 5 months.
November 2018:
-----------------------
The main goal was to get the motor assembled and sealed up.
Heads, plugs, etc
Dynosty Head Gaskets
Just a "VQ35"
CJM VQ37 FPD Rails, Synolimit Ported VHR Lower Intake Manifold
Synolimit Ported VHR Upper Intake Manifold & 63mm Ported TBs
Suckerpunch Motorsports Oil Pump, EPS Oil Gallery Gaskets, Greddy Oil Pan, Fast Intentions Oil Filter Relocation
Sold the my 19" RE30s and got another pair of 18s to step down on all corners. I couldn't find winning blue to match the rear so I'll have to fix the color issue..
Gram Lights 57xtreme 275/35/18x9.5 +22f and 295/40/18x10.5 +40r
Hangry
December 2018:
-----------------------
Christmas Roadtrip!
January 2019:
-------------------
Just keeps going and going...
ATI Super Damper
Fast Intentions Stage 3 - Xonarotor XR 65•64
Backside clearance over that "VQ35"
February 2019:
---------------------
Finished all the lines and "mocked" up the pipes
March 2019:
-----------------
Finally we can chuck this.. Omgwtfbbq!
Always be ready to eat your words eh?

We need clean up the years of neglect and cobwebs...
Hand "Car Wash"
"RB" Swap
Movement thanks to 2 MFP (Men Foot Power)
Fast Intentions Steering Rack Spacers - the detail to the design of their kit is amazing!
I guess you can say we dropped the car onto the motor instead of "dropped the motor in"
Home is where the heart lies
I
love
the Fast Intentions manifold, look how much clearance there is with these big ol turbskies (they are equivalent to GT35Rs)
My AAM TT kit did not have this good of clearance and it had smaller turbos
April 2019:
---------------
That's where we stand.. April's update will come after us fools get back to the garage..
But, the actual car was taking too long to rebuild so I decided to build a car simulator to get my seat time in instead.

And trust me, I really need the seat time..
---
Last edited by ttv36; 04-16-2019 at

12:00 PM

.
04-16-2019, 10:53 PM
Registered User
Join Date: Jun 2014
Location: Brentwood, TN
Posts: 787
Truly amazing. Can't wait to see the finished build. That car simulator is doooope. I don't even want to know what that costs lol.
04-17-2019, 10:19 AM
Race, repair, repeat.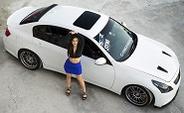 Since you don't want to.. The cost for the 4Play platform, Fanatec gear, NRG seat, etc so far was ~$3500. That's not including the cost of the PC to run everything on - I upgraded that last year to prep for the simulator build. I'm currently using a Logitech G29 wheel temporarily while I wait for my DD1 to be shipped. Even though I'm using a "lesser" wheel right now driving the simulator is fun as hell!

Pretty much everyone I've spoken to has said the experience directly correlates, a friend who competes in Lone Star Drift calculated out the cost of taking his drift car, tires, brakes, etc + maintenance of running a fairly local track for 5-6 hours and estimated it would cost him $2-3k for a day. At the very least the simulator definitely helps the thirst for speed and hopefully it will help me stay on the course when I take my G to the track again IRL..
My work had one of these laying around so I'm going to try VR out this weekend.
---
Last edited by ttv36; 04-17-2019 at

10:26 AM

.
04-17-2019, 06:32 PM
Registered User
Join Date: Jun 2014
Location: Brentwood, TN
Posts: 787
That's awesome!

04-18-2019, 11:43 AM
Race, repair, repeat.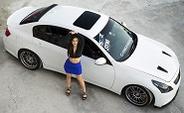 #tbt I can not wait to hear what the new cammed motor sounds like!
Edit: After reviewing all the posts I forgot to add that we decided on going with Ferrea valves as we were assembling the heads (which caused quite a delay in the build).
Version 2.0 (Updated):
Fast Intentions Twin Turbo Kit
Stage 3 - Xona Rotor 65.64 (HTZ-3579) Turbos
TiAL MV-S Wastegate Springs 14.5psi/1bar (Black/Red)
RJ Manufacturing Closed Deck Block
Carillo VQ37 H Beam Rods w/CARR bolts
Traum Pistons Custom Billet 11:1 cr
VQ37 Crankshaft
CJM Twin Pump 255/450
CJM VQ37 Fuel Rails
ID1700x Injectors
Tomei ProCam 272 duration 10.8 lift Intake & Exhaust Cams
Ferrea Competition Plus Valves
Ferrea Dual Valve Springs
Ferrea Locks
Ferrea Spring Seat Locators
Ferrea Titanium Retainers
Dynosty Head Gaskets
ARP 625+ Head Studs
SuckerPunch Motorsports Billet HR/VHR Oil Pump
ATI Super Damper
EPS Oil Gallery Gaskets
Solid Motor Mounts
Synolimit Ported VQ37 Upper/Lower Intake Manifold
Synolimit Ported Throttle Bodies
AdminTuning Combo Tank
Uprev GT MAFs
---
Last edited by ttv36; 04-18-2019 at

10:41 PM

.
04-22-2019, 08:27 PM
Nice updates, Tony. Bet your getting very anxious to actually drive her again!

Loving the driving simulator too. Awesome set-up! Unfortunately my wife doesn't like to see my stuff sitting out when I'm not using it so I built a folding one with an old racing seat for my Xbox One. That way I can store it in the closet when I'm not using it. Then when I want to use it I can just pull it out and set it right in front of my 65" Samsung Plasma in my loft.
Thread
Thread Starter
Forum
Replies
Last Post