Help

PSA: don't drink and cut through grommets (also, help please)
05-15-2018, 08:25 PM
Registered User
Join Date: Apr 2016
Posts: 31
Thanks: 0
PSA: don't drink and cut through grommets (also, help please)
---
All,
Back when I first installed my JL amp and sub, I followed the general forum advice and popped a little hole in the factory firewall grommet to pull the 4ga lead through. This served me well, but then I flew too close to the sun and pulled an air line + two compressor harnesses into the mix - it held up for about a year or so but lately has been leaking and contributing to some electrical issues.
I hit it with more silicone yesterday, but after some heavy rain today I noticed visible leaking on the floor coming from the PS under-dash area (I removed the carpet about a month ago because I'm not about that mold life). While everything was still wet, I was able to identify several points under the hood between lines where water could squeeze through the grommet and trickle down the power lead. See pics below.
Advice:
For those of you enterprising folks who want to run two amps and an air ride kit, I've got some advice: Don't quadruple-penetrate your factory firewall grommet unless you have a fetish for toasted BCMs.
Request for YOUR advice:
Below are some photos of the grommet (
). My questions are after the pics: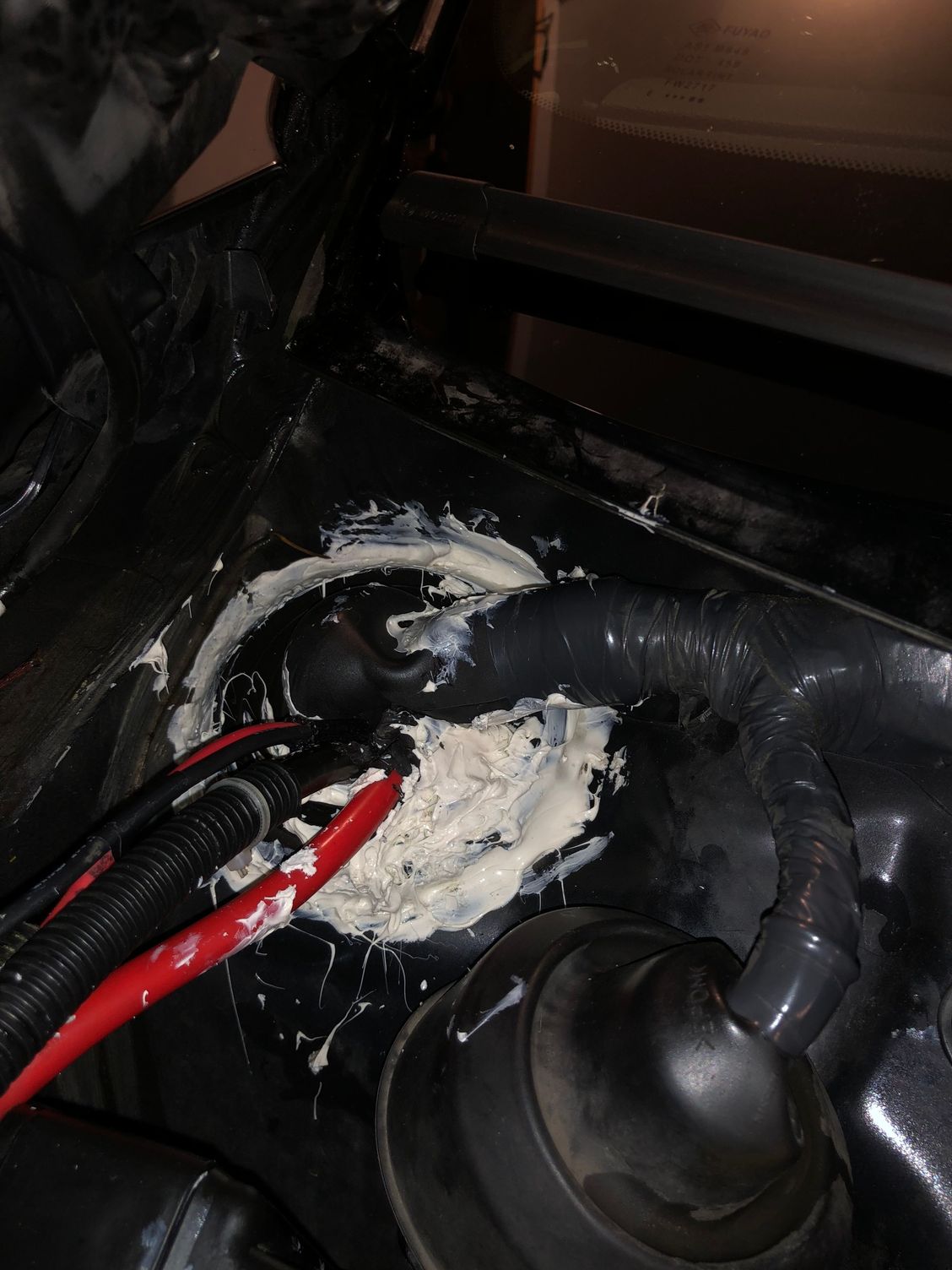 Up close and personal
Broader angle for context
Who wants to go for a swim??
I can feel my spirit crushing under the weight of my own stupidity, but was hoping one of you can lead me back to the promised land...
1. Is this a lost cause, or is there some product I can buy to go nuts with in here that stands a reasonable chance of sealing everything up?


2. In the interest of making it easier to seal things off, is there any issue running the compressors and airlift setup tapped in the trunk off of the same 4ga lead as the amps and grounding them all in the trunk? That would leave only the 4ga and air line to deal with in the grommet.


3. If I do opt to pull the compressor and air ride harnesses out, will the gaping hole left behind be too far gone to repair? If so, how difficult is this grommet to replace?


4. Any other general, productive advice would be thoroughly appreciated.
More advice: running airlines in the interior of the car is not worth it. If fuel lines and brake lines are OK to run along the frame rail, then air lines are too. Use the KISS formula, people.
Thanks!
05-15-2018, 08:45 PM
Registered User
Join Date: May 2017
Location: Los Angeles
Posts: 136
my brothers sedan had the same issue. Some people say that its from water channels leading up to the sunroof. That was not the case for my brothers car. We used a clear silicone caulk to seal the grommet. Don't try and remove the grommet or any of the cabling its not gonna be a fun time.
05-19-2018, 08:22 AM
Registered User
Join Date: Aug 2011
Posts: 182
Flex-seal? No actual experience with it but it looks awesome on the commercials.
05-19-2018, 10:37 PM
Registered User
Join Date: Apr 2017
Posts: 88
I agree with flex seal, you can go crazy with an entire can if you pinpoint the leak. Although I'd recommend drying everything out fully first of course and getting all the water out to prevent mold and etc.
Thread
Thread Starter
Forum
Replies
Last Post