Official G37 1/4 Mile Times
03-05-2018, 03:24 PM
Super Moderator
03-05-2018, 04:26 PM
'Cuz Racemod-erator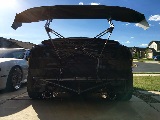 Join Date: Apr 2011
Location: Nevada
Posts: 2,867
03-05-2018, 05:52 PM
Super Moderator
There is an old thread for lap times already. Thing is, some of us don't time at the track coughcoughmecoughcough and driver skill as well as car prep make a large difference. It would be a nice way to track one's progress at one track but it wouldn't be all that imformative for those who don't run the track.

All I know is I ran 2:05 at MSR Houston in our LeMons Sentra SE-R. I assume I'm faster in my G because more power and a LOT fewer cars on the track. We never started a LeMons race with fewer than one hundred cars!
03-11-2018, 03:20 PM
Registered User
Join Date: Dec 2014
Location: Texas
Posts: 982
08-26-2018, 10:33 AM
Registered User
Join Date: Jan 2015
Location: NoVA
Posts: 241
08 Coupe 5 AT
Intake/ Testpipes/ Tomei exhaust and tune
Firehawk tires were pretty worn but no excuses here need to learn to better my 60'
08-27-2018, 11:19 PM
Premier Member
Join Date: Jun 2017
Location: Seattle, Wa
Posts: 263
I ran a 13.1 1/4 mile yesterday at Import Face Off here in Washington state. ill upload my time slip soon. I was having issues with getting off the line. I'm sure I can get in the 12's just need more seat time.
Time slip*
---
Last edited by Calg37USMC; 08-29-2018 at

05:30 PM

.
11-17-2018, 05:44 PM
Finally ran new setup at dragstrip!
[email protected]
mph. Car has so much left in it. 1.96 60ft is trash haha. But I own it and that's what I ran. Just need to do practice more. I messed up launch by rushing into flashing the stall in the stage line. Doing so in a hurry to try and catch the light. Only problem is when you stand on the footbrake and rev fast it will lock you out of stall and limit your rev to 2k max. If you do it slow, you can use the stall Lol.
[email protected]
12.6 passes
Race weight
E85 Fill up after race
11-17-2018, 11:30 PM
Super Moderator
You're going to be forced to wear a helmet soon.
11-18-2018, 08:39 AM
11-18-2018, 07:58 PM
Super Moderator
I have never drag raced but I thought it was sub-12 seconds. If the track doesn't require SA, get one of those beanies the dumb Harley riders wear.
02-12-2019, 03:22 PM
Registered User
Join Date: May 2016
Location: Tampa, FL
Posts: 637
I want in on this...
2014 q60s 7AT
370z OEM nismo exhaust
Beluga axleback
Custom 2.5" short ram intake
Self ported upper and lower intake manifold
Tein coilovers
Some minor weight reduction weighs 3540lb per scale